JANUARY 2001

V*ENNA'S CANADA TOUR SOLD OUT!!!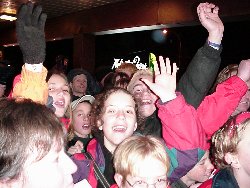 A big THANK YOU to all you who came out to see us during our week long promotional tour in Canada. We were so pleased to meet you and we are so sorry that many of you didn't get the opportunity to see us perform since the shows were sold out. We hope to be back soon, so make sure to catch us then!!!
We had such a great response that the promoters had to turn away 1000 people in Ottawa alone!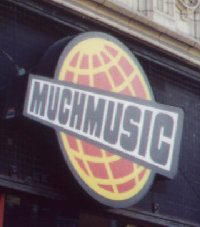 MUCH MUSIC INTERVIEW
During the recent tour in Canada, V*Enna was interviewed by Much Music, the Canadian answer to MTV. This was a great privilege and we hope to see more opportunities like this come to being. P.O.D are the only other Christian artists to have appeared on Much Music.
"WHERE I WANNA BE" NUMBER ONE ON CCM Video Countdown!!
Our Video "Where I Wanna Be" finally caught the #1 position on the CCM Video Countdown on January 27th, after having been the highest gainer for 6 consecutive weeks! Please check it out on worldclasstv.com.
100 HUNTINGTON STREET
Staying busy during their time in Canada, Lucy and Sharnessa also made an appearance on 100 Huntington Street, that airs on CTS and many other networks over North America. They performed both "Do You Wanna Know" and "Where I Wanna Be" as well doing an interview

LUCY AND SHARNESSA ARE HOSTING

THE CCM VIDEO COUNTDOWN!
V*Enna will be hosting the CCM Video Countdown for a week coming up soon. Recording for the show was done during their recent "Tubing Night" with LIFE 100.3FM in Canada.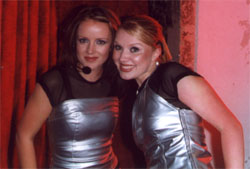 V*ENNA VOTED BEST ALBUM OF THE YEAR
"Where I Wanna Be" was voted the best CCM album of the year in "Never for Nothing's" (a Christian Musicians Fanzine) January 2001 issue. We were happy to start the new year with that recognition!
CANADA NEXT! V*ENNA GOING ON PROMO TOUR TO CANADA
CMC Music Distribution Canada together with V*Enna will go to Ontario in the end of January for a mini promotional tour there. V*Enna will do four concerts as well as in-store and on-air appearances on radio and TV in Canada, before going on tour with Phil Joel in February. For information look at the tour page.