NOVEMBER

24TH NOVEMBER - V*ENNA RECORDS FOR ITV [UK]
V*Enna recorded a performance and interview for the nation wide ITV TV Channel in the UK. The recording took place in Stone, Kent. The program called 'Sunday Morning' will be aired on Sunday December 17th on ITV at 10am.

5TH NOVEMBER - V*ENNA FINISHES TOUR WITH RAZE
V*Enna finished their recent tour with the Forefront band Raze with a show in Wilmar, MN. During the last two months, V*Enna has been opening for Raze during their "Get With It" tour. The tour took us to almost every corner of the states, having had performances in places like Los Angeles, CA, Portland, OR and in Garden City, NY. We want to thank all who said hello after the show and we're looking forward to seeing you all soon again!
NOVEMBER - V*ENNA PART OF ESSENTIAL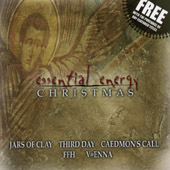 CHRISTMAS ENERGY
V*Enna will be part of the Essential Records release, Essential Christmas Energy which features tracks by Jars of Clay, Third Day, FFH and Caedmon's Call. The track "O, Come All Ye Faithful" is a previously unreleased track and is exclusively available on this EP. The EP is part of a national promotion where you get the Christmas EP free if you buy selected Essential Albums, including "Where I Wanna Be". So if you haven't got your copy yet of our latest album yet, check it out NOW!